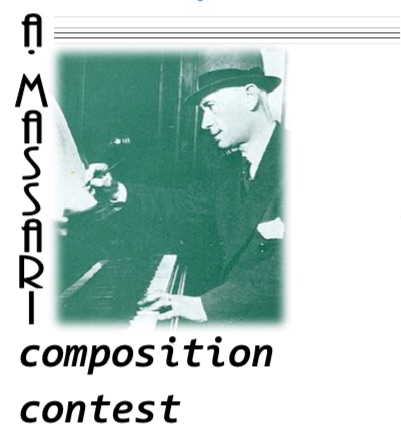 Musical association InConTra Musica and Diaphonia Music Edition announce the composition contest "Augusto Massari". The selected score will be published by Diaphonia Edizioni and performed during a public concert organized by InConTra Musica in his 11° MiniFestival Cameristico (Italy).
RULES
1) The contest is open to all composers, regardless of their age or nationality

2) Each composer has to send 1 or more scores for classic accordeon (Category A) or for piano (Category B). Multiple submissions are possible and each composer can partecipate in both categories. There are selected two winners, one for Cat. A and one for Cat. B
3) The use of different instruments or any electronic device it is not permitted
4) The composition(s) should be between 5-10 minutes in length
5) We accept compositions which have been already performed but not published
6) The submission deadline is the 6 January 2019.
7) The composers whose works will be chosen, are welcome to attend the concerts but their
presence is not mandatory. They are responsible to pay for their own accommodation and travel expenses.
8) Every style and musical language is admitted.
9) The publication bay Diaphonia Edizioni is a necessary condition to receive the prize.
SUBMISSION

Entry fee to partecipate is 30,00 euros for first score in each category and 15,00 for the next scores. The payment involves the association at InConTraMusica.
In order to participate, please submit the following documents:
- A file in Word format containing the composer's name, nationality, postal address and e-mail address. A short description of the composition(s) should be included together with the consent of processing the personal data, according to the Italian law. (You may want to use this formula: "In
compliance with the Italian legislative Decree no. 196 dated 30/06/2003, I hereby authorize you to use and process my personal details contained in this document." with signature)
- A recent photo and a short biography (in English and/or in Italian)
- The proposed score(s) for consideration, in PDF only.
- A copy of the receipt of payment.
- All documents should be sent by e-mail at This email address is being protected from spambots. You need JavaScript enabled to view it.
PAYMENT
The entry fee should be paid by Bank transfer.
The bank details are as follows:
IT97G0200868000000101310454 – BIC/SWIFT UNCRITM1SN3 account n° 000101310454, payable to Associazione di Promozione Sociale Incontramusica, P.zza Silvagni 26, San Giovanni in Marignano (RN).
Is possible to use this PayPal link: https://paypal.me/massaricompetition
PRIZES
-The winning composer will receive an award plaque.
-The selected score will be published by 'Diaphonia Edizioni' and performed during a public concert organized by Association InConTra Musica and performed during the 11° MiniFestival Cameristico, in San Giovanni in Marignano (Rimini, Italy).
The panel, chaired by the composer Aurelio Samorì, composed by members of Diaphonia Edizioni and the composers, Paolo Marzocchi and Danilo Comitini will evaluate and choose the best.
The winners will be notified by e-mail and they will receive a contract proposal for the publication. Some scores may be published even if no winner is announced.